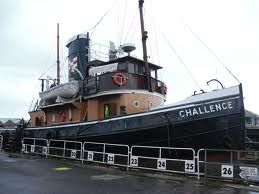 Dunkirk Little Ships Restoration Trust
Restoring Steam Tug CHALLENGE as a Touring Visitor Attraction
In a nutshell
Dunkirk Little Ships Restoration Trust(DLSRT) preserves and restores the historic ships recruited in 1940 to aid the British Army at Dunkirk. The Trust's next big project is to restore steam tug CHALLENGE so that it can tour the coast as a travelling visitor attraction, bringing this important heritage to the public. In order to create an exciting and viable program of activities and events for CHALLENGE's diverse and far-flung potential audience, the Trust needed A Different View. With our knowledge of the HLF process, we helped them develop an activity plan that took into account everything unique about the project, including its mobility, the variability of its audience and the myriad opportunities for learning outcomes.
A bit about the Dunkirk Little Ships Restoration Trust and CHALLENGE
In 1940, 1000 "Little Ships" came to the aid of the British Army who had been stranded on the shores of Dunkirk. These ships had been taken out of service as pleasure boats and, made mostly of wood, they soon deteriorated after the war, and needed restoration if this unique maritime and military heritage was to be preserved.
The DLSRT is a charity dedicated to the restoration of these boats and their reuse as educational and entertaining attractions for the public. A very special boat in need of restoration is CHALLENGE, a beautiful steam tug, and the last of its kind to have played a part in the Dunkirk rescue. The project to restore CHALLENGE involved not only mechanical and surface restoration but also the difficult task of making the tug environmentally viable for the future and planning her a programme of learning activities, exhibitions and events that would successfully engage many different communities.
How we got involved
In order to restore CHALLENGE's life as a touring vessel, bringing her important history to life in ports around the country, the DLSRT was preparing an HLF round two application. They needed an activity plan that would capitalise on CHALLENGE's unique potential as a travelling visitor attraction.
A Different View took up the gauntlet. In order to design successful activities for CHALLENGE's new life, we needed to identify the potential audiences and ways of reaching them and evaluate the current visitor offer in order to develop a framework for activities, events and learning outcomes on which to base the HLF application.
We undertook all the background work on behalf of DLSRT, including the research and consultation with users, volunteers, potential stakeholders and competitors so that we could then come back to the CHALLENGE project team to present our findings in inspiring workshop sessions, to spark ideas and form strategy.
Outcomes
Our consultations and workshops showed how invested the community and potential community already was in CHALLENGE and its history. The process of evaluating the DLSRT's current offer, potential audience and partners was vital for the team, and resulted in an activity plan that illuminated CHALLENGE's long-term strategy and helped support a successful round 2 HLF application.
Other projects that might interest you are:
Share -
LinkedIn

/ Twitter

/ Facebook

/ Print

/ Download