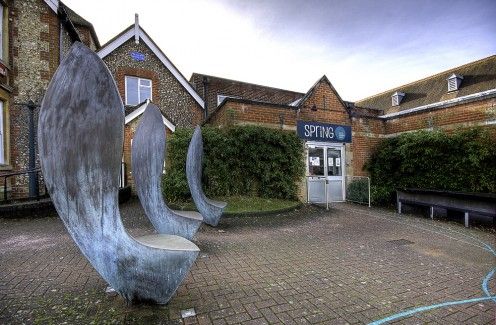 Havant Arts Centre
Vision and brand
In the nutshell

Havant Arts Centre
(now known as The Spring Arts & Heritage Centre) was preparing for a merger with the Havant Museum building next door, which meant going back to the drawing board to reconsider their brand and how it would change in the new situation. A Different View's collaborative approach allowed the Havant Arts team to explore how their brand was defined already, and how it could be developed and put into practice in the new organisation, including redefining their values, the personality of the brand and even their name. Once the whole team was clear on what their brand values were, they could put these values into action, starting with the building adaptation and opening, and extending to every customer touchpoint giving visitors a unified and welcoming experience.
A bit about Havant Arts Centre

Havant Arts Centre is a vibrant home of art exhibitions, shows, events and activities for visitors in Havant, Hampshire. Part of the development of the area in the 1860s, following the addition of a new railway branch, the centre was originally a multi-purpose town hall, and was transformed into the Arts Centre in 1978 when the civic offices moved elsewhere.
Havant Museum stands next door and due to funding difficulties, a merger was planned to join the two buildings, with the Arts Centre Board taking over management of the whole project.
How we got involved

A Different View's motivation and brand development was needed at the outset of this new venture. As Havant Arts Centre and Havant Museum planned the merger, they needed to highlight the gaps in their conception of the joint organization, and uncover its opportunities.

In our busy day-long workshops, we led the team, including staff, volunteers and trustees, through a journey of thinking, discussing, thrashing out and ultimately collective decision-making about their brand.

We explored the important questions:
Who are we?
Who do we want to be?
What are our values?
Outcomes

The discussion was productive and collaborative; the team came up with their new name, The Spring, which incorporated both organizations and the sense of a fertile meeting place where culture flourishes. Then we went on to define this brand for every part of the organisation and showed the team how to live these values and make the brand a sustainable one.
Other projects that might interest you are:
Share -
LinkedIn

/ Twitter

/ Facebook

/ Print

/ Download