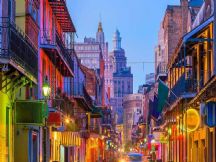 5 Trends from Our Spring Trade Show Tour
14.06.2019
As experience makers and strategists, we're always on the lookout for how people and places are evolving. We watch the trends that are rapidly impacting the wider world — big data, political insecurity, wellness — and try to predict what form they'll take in the cultural sector, but we also peer inside our weird and wonderful world itself to spot the unique trends taking hold.
So far this year, we've been soaking in the brightest ideas from trade shows and industry
---
Dr Laura Crossley joins the team
02.05.2019
We are thrilled to welcome Dr Laura Crossley to the ADV team. She's a bundle of energy and fun who you will want to get to know!
Laura has a decade of experience working in museums, heritage and the arts. She specialises in Strategic Planning, Visitor Experience, Audience Development, Evaluation, Partnership Development, Programming, and Interpretation. She is also a skilled trainer and facilitator and has experience
---