Welcoming Tina Brown to the team
13.02.2020
We are starting the new year with a bang by welcoming our latest Senior Consultant Tina Brown to our team!
Tina lives in Franklin, Tennessee and has known A Different View's US director, Sylvia Matiko, for 15 years. Tina started her career in journalism (she knows how to ask good questions) and then went on to be the Interim CEO for Adventure Science Center in Nashville. Most recently she was the Interim Director for the Customs House Museum &
---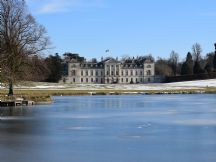 A Different View appointed to Woburn Abbey
13.02.2020
Woburn Abbey is home to the Duke and Duchess of Bedford and is undergoing its biggest refurbishment programme since it first opened to the public in 1955. In a multi phased programme of capital works, the first phase concentrates on the restoration and enhancement of the main house.
A Different View have been appointed to lead a strategic review of the overall visitor experience with a view to developing a unified vision across all aspects of Woburn Abbey – from house and garden to food
---