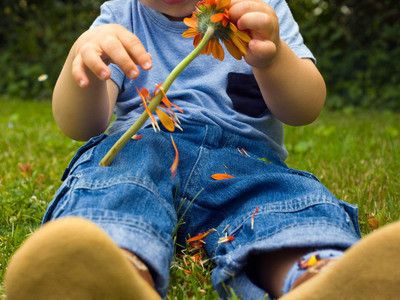 3 Reasons Why Tinkergarten Is One of Our Lockdown Heroes
Bringing the outdoors in
On Boston Common, three giggling toddlers slap their hands along a wooden seesaw. They plonk things onto it â€" a clump of clay, a handful of seeds and leaves, a special teddy bear â€" until the plank begins to move. For these littlies, Tinkergarten is about learning the relationships between objects, it's about practicing the power their hands hold, feeling the textures of outdoor things.
This is how Tinkergarten plays outdoors, but as soon as the pandemic arrived and began shutting down our shared spaces, this clever little company took on the challenge and made sure its community felt even more looked-after. That's why Tinkergarten is one of our favourite heroes of the lockdown, and it's also giving us some much-needed hope for the near future.
How Tinkergarten brought the outdoors in
Tinkergarten was founded by Meghan and Brian Fitzgerald. Bringing careers in education and digital product together, they created a company with outdoor play at its core.
Their approach centres on growth. Fed by nature and play, they believe children will grow in empathy, confidence, and resilience, while learning all manner of skills, from problem solving to dexterity to communication.
Here's what makes them so magical right now:
They're not scared of the digital world
The team has managed to keep this work going through uncertain times with even greater enthusiasm. They send a weekly roundup offering tips for home-schoolers, post daily DIY activities and pep talks for parents, helping them provide the same exploratory magic that defines Tinkergarten's physical classes.
Tinkergarten knows that parents are online a lot right now, looking for advice, comfort, information, and a sense of community, so they're showing up on social media, offering snippets of helpful content.
Everything comes from their values
The cool thing is that this response is just building on Tinkergarten's existing approach. Before COVID-19, it was already important for Tinkergarten to connect the indoors and the outdoors. For example, "A Winter Howling" is one of their outdoor sound-based activities, inspired by a picture book called Little Wolf's First Howling.
In this way, activities that nurture body skills or emotional skills are enriched by literature, giving them a life way beyond the forest or playground, and allowing children to bring their outdoor adventure indoors without losing the magic. Each activity can be adapted for the garden or home â€" discovery can happen anywhere.
Their work is always continued by community
Tinkergarten now has a community presence in 50 states of the US. Part of the joy of their model is that they're taking high quality outdoor play experiences and decentralising them, empowering communities to create and deliver these classes and activities themselves.
That's what also gives us hope that they've built a community that will stay with them, and transition with them from lockdown into something else, as childrens' needs change.
In our new world, as we begin to edge out of our homes and back into the company of others, we have to be able to adapt quickly and lovingly to reassure customers and visitors that we see and hear their concerns, that we're still more than willing to take part in their lives.
We see Tinkergarten as a company doing great things in small ways. Whether it's for inner-city kids living in Boston, turning the centre of the city into a stomping ground, or with an Instagram post that gives parents an hour-long DIY activity to make their day a little more manageable.
Other posts that might interest you are:
Share -
LinkedIn

/ Twitter

/ Facebook

/ Print

/ Download