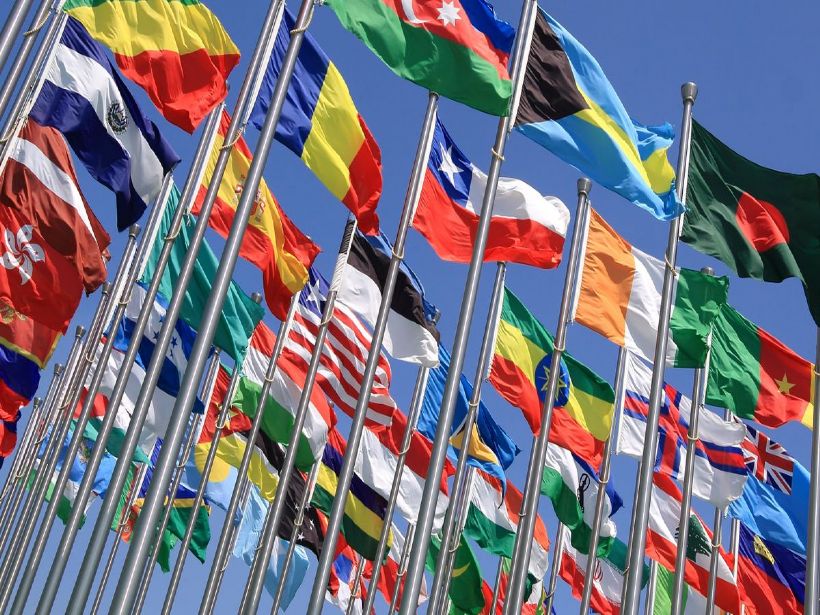 The pains and pleasures of cross-cultural research
Today we're joined by Geoffrey Dixon, A Different View's head of market research, to discover the challenges that can present themselves when conducting cross-cultural market research and what can be done to overcome them.
Despite cross-cultural research presenting organisations with an opportunity to gain rich insight into their international and often complex local audiences, it is often overlooked or neglected due to the intricacies associated with conducting it on a large scale.
There aren't many people better suited to tackle this topic than Geoff - he has over 30 years' experience working around the world on market research projects and has worked in just as many cultures. Within the cultural sector alone he has worked with The Clinton Presidential Center, the London Science Museum, Royal Armouries and various cultural projects in the middle east.
Interviewer (I): Thanks for speaking with us today Geoff. Are there any projects you've worked on that stand out to you as being trickiest to orchestrate?
Geoff (G): The most complex multi-cultural research study we have undertaken so far was examining 16 diverse tourism source nations for the development of a new themed attraction area in Dubai examining:
Pricing scope, price sensitivity and pricing elasticity of demand

Pricing bundles and dynamic pricing

Anchor brand perceptions and values and anchor brand matching

Character brand perceptions and values

Desired experiences and relative value perceptions of experiences

Food and beverage requirements

Likely visiting patterns - time of day, time of year

Child care needs

Religious observance needs
Surveying around 1,000 people from each tourism source nation is an interesting experience and we did most of the work in Dubai.
We were able to conduct interviews with tourists departing Dubai airside at Dubai airport. These were tourists who had experienced everything that Dubai had to offer including competitors and were aware of the geography and the transport infrastructure and importantly the pricing environment for attractions.
In interviewing tourists airside within the airport worked well as we knew it would , they had passed through security and were waiting for their departure with time to kill; time to complete our survey.
Once we had the enormous amount of data we had to undertake optimization modelling. What are the key attraction branding options; Six Flags, Disney, Universal and so on. In this study it was more complex because we were then brand matching – so which two brands side by side optimize demand. We did this by conjoint analysis; giving respondents' what if' choices.
Key to this is working with the right survey translators. They had to have significant experience of the fun attractions sector and be from the country of focus to be certain to reflect cultural nuancing.
I: Does language ever pose a problem when conducting this style of research?
G: Yes - with another survey we conducted in Saudi Arabia, the client was from another Arabic speaking country and high income professionals, and we were interviewing a nationally representative sample, including high, middle and lower end populations.
The survey was in Arabic, and the client was reading it with the Arabic from her country in mind. We had to stand our ground; I don't speak Arabic to be an arbiter, but we chose our translators well and they were able to show line by line why we were right in the Arabic terms and structures we used.
It went further; the survey explored cultural influences on food and beverage structures and layout and the client said this is not how it is done any more; that things had changed in restaurants. They had changed in their high-end world but we had to take the pulse of the nation not only of the elite.
I: Once the translation hurdle has been overcome, what role does interpretation play?
G: Well, working in China was a different experience as this was a new culture for us. We had been working in the Middle East for twenty years and more and so have some understanding or behaviors and mores.
For China we had to begin all over and this was through a series of focus groups in Shanghai. The choice of moderator for the focus groups was again very important. The moderator had to have experience of the sector, the dialects of the region and an awareness of the key issues influencing societal behaviours.
This is not to influence what people say but to help us to better influence the direction of the focus groups and in the interpretation of what the respondents said.
The understanding we would gain from the focus groups would enable us to develop quantitative surveys to send out to thousands of respondents around Shanghai.
We learned so much but the biggest surprise was how much Benedict Cumberbatch and David Beckham are loved by Chinese audiences. We had 100% spontaneous unprompted awareness when looking at potential celebrity endorsement.
The most interesting learning came from exploration of potential branding opportunities.
In developing branding and brand perceptions we began with the automotive sector. If we look at BMW we see that they are known as Baoma in China. The word baoma is very commonly seen in Chinese traditional poems and literature, meaning precious/outstanding horse.
Baoma is also widely used as metaphor to indicate/describe things are fast, speedy and elegant/valuable. This word existed before BMW selected it as their Chinese brand name from 1992.
Baoma is an excellent example of transliteration, as it represents the brand values of BMW by using metaphor, which also originates from a well-recognised Chinese word with very positive associations behind it.
Comparing Baoma (BMW) to Jiebao (Jaguar): Jiebao did not exist as a word before Jaguar used it as their China brand name. Jie (meaning fast) and bao (meaning leopard) can be seen as two separate words, however when they combine together, it works very well for Chinese consumers.
So using Jaguar/Jiebao example it is possible to create a completely new word rather than just relying on that which is currently in circulation.
A little more research came up with more examples:
Brand: Coca-Cola
Transliterated Name: Ke Kou Ke Le
Meaning: Tasty Fun
Brand: Reebok
Transliterated Name: Rui bu
Meaning: Quick steps
Brand: Citibank
Transliterated Name: Hua Qi Yin Hang
Meaning: Star-spangled banner bank
Brand: Marriott Hotel
Transliterated Name: Wan hao
Meaning: 10,000 wealthy elites
The need for research when entering a market cannot be proven more than by an example of when it goes a little awry. Take Mr Muscle the cleaning product brand.
Brand: Mr. Muscle
Transliterated Name: Wei Meng Xian Sheng
Meaning: Mr. Powerful
Mr. Muscle was originally not translated when exported to China and when spoken by native Chinese it sounded like 'Mr. Chicken Meat'. So, a new name with a similar meaning was required, and Mr. Powerful was born.
I: What can marketers learn from an experience like this last example?
G: There is a key take away from this, but all marketers should really know this already – test your brand in a foreign market and do not assume that it has the same meaning in a foreign language.
The added value from this research is that for the Chinese market you can use transliteration for the local brand and achieve significant cultural branding benefits and also maintain your global or international branding position.
This can be important for global visitor attraction brands that are seeking to locate in China, but also retain their international or global brand. Like Citibank and Marriot, local facing brands and their global brand presence are not necessarily mutual exclusives.

I: Have you found there to be intra-national cultural differences, as well differences between nations?

G: Absolutely - take the visitor experience and community consultation studies we conducted for the Royal Armories for example. In Leeds the population is 85% white British and that means that 15% of the population is not.
The 15% who are not white British tend to be from Asian countries that were likely to have their own view of the history of arms and conflicts and of the British Empire in particular. It was critical to be able to understand how each of the key Asian cultures viewed the museum and the areas of focus; people from different backgrounds are likely to interpret heritage and potentially emotional stimulus material differently and it was important to understand these differences to help guide development.
I think it is critically important to understand difference but also what unites us, as invariably it is not possible to develop experiences that accommodate all cultural backgrounds and cultural sensitivities; but we do need to be informed when making content and investment decisions.

I: And how does the need for inclusivity extend beyond cultural differences?
G: It's imperative whichever way you look at it. Take disability and learning difficulties for example. We consulted with MIND charity to understand how we should address issues around disability and learning difficulties and visits to cultural and fun attractions and events. What are the key issues that can influence a visit and then enjoyment of the visit. For example, for some there is a fear of what is 'behind the door' what experiences will they face? What will happen if they have to leave suddenly or to visit the loo. Are there lifts, how far do they have to walk, will there be noises and lighting effects.
Again, it may not be possible to accommodate every need but understanding what the issues are can help enormously and provide access to a large potentially under-tapped audience. Our four Covid impact studies over the last twelve months have provided extra insight with audiences who have disabilities or learning difficulties. They have suddenly found much greater access to arts, cultural, learning and travel content that has been made available by cultural attractions in particular during lockdowns.
I: Thank you again for your time today Geoff. Where can people get in touch with you if they have any questions regarding the topics we've covered today?
G: Thanks for having me. I'd be happy to take any questions or responses over at [email protected]
Other posts that might interest you are: