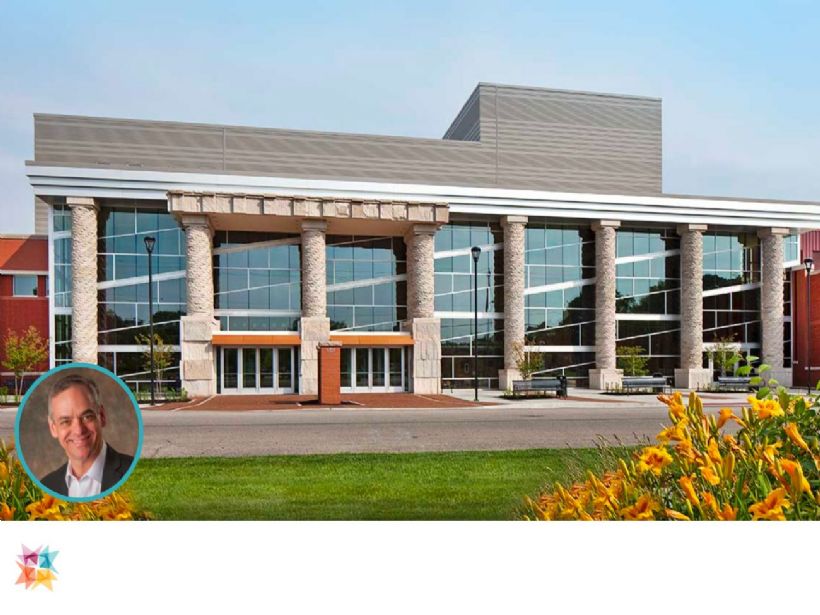 Emerging Stronger: SkyPac
Interview with Jeff Reed, President & CEO
This month we spoke with President & CEO of The Southern Kentucky Performing Arts Center (SkyPac), Jeff Reed. SkyPac was created in the year 2000 by Warren County, has since been home to a plethora of shows, education programs, and community initiatives that continue to support major performing arts activities in Kentucky.
Jeff humbled us with an honest account of returning to your fundamentals, acting with courage, and maintaining cautious optimism.
What positive learning did you take from the pandemic
that continues to serve your organisation today?
The fundamentals of running an organization are important regardless of the economic situation we find ourselves in. The fundamentals are the fundamentals and if you stick to the fundamentals, they'll serve you well as you navigate through uncertain territories. And we can get into details about that, but there are certain things like controlling your expenses, that's always important. But we learned that it was never more important than during the pandemic. And by really focusing on that, that was our life blood that carried us through. We could control that for example. Focusing on maximizing our income. It sounds like all business, but face it, it was an economic situation. So focusing on the income side of things, making sure that we are maximizing that as much as possible. Those fundamentals got us through and we really came out, so far, very positively, believe it or not.
"The fundementals are the fundementals and if you stick to the fundementals, they'll serve you well as you navigate through uncertain teritories"
I also learned that you have to have the courage of your convictions. You have to know what you believe in and what is important and you have to have the courage to stick to those things. And that's different for any organization. We have our mission statements, we know why we exist, but sometimes it's easier to deliver on those and believe in those than at other times and we learned that those things don't go away just because of a global crisis. They are important and we have to have the courage of those convictions to make difficult decisions to keep the mission going forward, if that makes sense.
Does the pandemic still affect your organisation today in certain ways? And if so, how?
The pandemic is affecting us. Really, I think it's the residual effects that we're seeing here in the US. People are, in where I live, more willing to attend large events, they don't seem to be as concerned about the risks. Of course it's different for everyone, but largely that's true. But the economic residuals we're feeling and I think are going to be even more of a challenge as this next year comes about with a possible recession. I think that's all linked to COVID. I'm not an economist, but I have a feeling that's the case. And so even though we have an optimistic view of the disease and where we are with that, we certainly have new challenges that we didn't anticipate.
How does this year feel? Optimistic or a new set of challenges?
Very optimistic going forward with the disease - I mean, we don't know, of course, what new variant might crop up, and that's uncertain and a bit scary. But there are new challenges. The economy has its challenges. And in fact, I have a staff meeting today, and we're going to talk about "Well hey, we got through the meat of the pandemic, pretty well, but now we have these new challenges". Are people going to have disposable income to attend performances? Will it help us because of gas prices? Will they stay in our local area for entertainment and the arts and entertainment instead of going to the bigger city? We're near Nashville. We're an hour away. Will that actually be a benefit to us? How about contributed income with the stock market all over the place? What does that mean? Will people hunker down and be more careful about their gifts that they make? And how will that impact us? So we've been through recessions before and downturns, and it's no different. But it really gets back to what I said earlier. It's the fundamentals. There are only so many things you can control. And if we find ourselves in those situations, we've got to look at the fundamentals and say, hey, we can control our spending. We can be very careful about what we do and gauge our risk, depending on that. An old marketing friend of mine said 'Fail cheaply' that's been a mantra. It's okay to try things, but when you're in a recession, you've got to make sure that you don't bankrupt your organisation when you try these things. So it's that kind of a more careful, deliberate decision making process as we go forward, as opposed to a booming bowl economy where things are going great and your risk is different, looks different.
"It's okay to try things, but when you're in a recession, you've got to make
sure you don't bankrupt your organisation when you try these things"
Other posts that might interest you are: