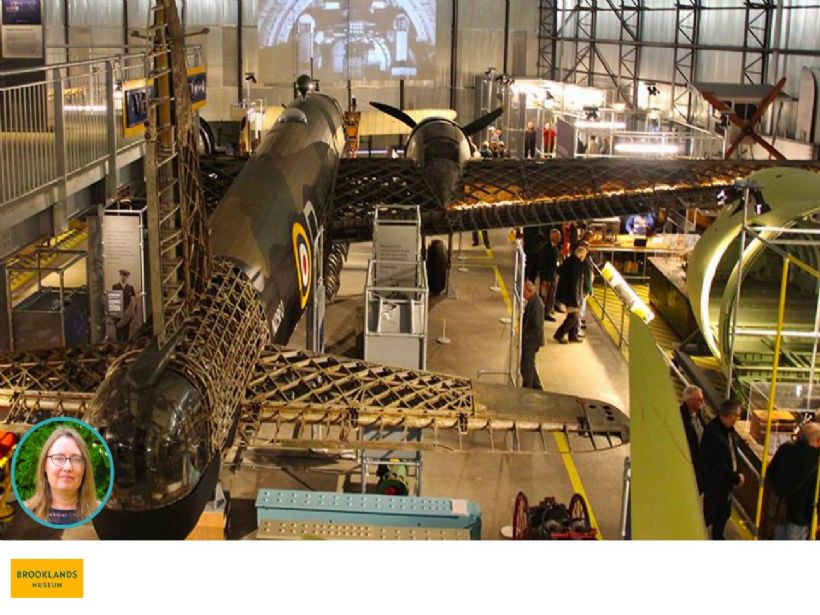 Emerging Stronger: Brooklands Museum
Interview with Tamalie Newbery, Director and CEO
Having taken a short break, we're returning to interviewing leaders of cultural organisations to better understand the opportunities and challenges that they face in today's world.
This month we spoke to Director and CEO of Brooklands Museum, Tamalie Newbery.
Listen to, or read, the full interview below for a gripping insight into how the motoring and aviation museum has learnt to manage change effectively, how they still experience the lingering effects of the pandemic, and why they're looking forward to the rest of 2022.
What positive learning did you take from the pandemic
that continues to serve your organisation today?
I think we learned a lot about how to manage change. And I mean managing change is always the number one issue for an organisation, but the pandemic showed us change can come completely left field - things that we never expected to have to deal with, at a pace that we didn't expect to have to deal with them, with a level of complexity, cutting across a whole range of areas all at once. So an awful lot of intersecting change between different things and that, in a way, is at the heart of the challenge that we faced during the pandemic and I think a lot of people did. Change is always about practical stuff, but it's also about how people react to it and an awful lot of the emotional challenges that our staff and our volunteers, and to some extent our visitors, felt through the pandemic was about managing change and about things that were outside their control and adjusting to that. I guess we learnt how to support each other better through that. How to identify what was the change we could control and needed to control, versus what was actually quite simple to do practically, but was going to have a big emotional impact, and to put much more focus into communicating with people about why it was necessary and how it would affect them and what the benefits of those changes would be.
"Change is always about practical stuff,
but it's also about how people react to it"
We learnt to streamline our decision making processes and to be much more specific about things that require a high level of sign off by someone senior in the organisation. Because maybe it's a new legal requirement that has suddenly come in, versus things that are an adaptation on the ground about exactly where to put new directional signage or hand sanitizers and so on, that were absolutely operational matters that could be delegated really to very junior levels in the organisation. So to use the decision making ability and the decision making responsibility within the organisation much more effectively and to empower people by giving them the information and what the parameters were, what the new criteria were that had come out in the latest guidance or whatever, and allowing them to think it through. That's built capacity in our organisation enormously, because actually we can move and develop and change and improve much faster once we've thought about how to distribute information in a way that allows people to make good decisions, rather than having to think everything through in the senior leadership team and then tell everybody what to do. So that's been really powerful
Alongside that changed sense of how we're going to make decisions in an organisation, how we drive the change, who's responsible for communicating about it - of course that's made us rethink what kinds of people we need in the organisation itself, what kind of attributes they need to have, what are the kind of core skill sets, regardless of their specialist expertise for their role, but what are those kind of core skill sets that we need across everybody in the organisation? And we've started recruiting - it was actually what we were thinking about pre-pandemic which was really useful because it's stood us in really good stead, but we've become much more concerned about recruiting people with the right attitudes and attributes, about being upfront with people that we expect them to take the initiative, that we're going to support them to take responsibility for things, but that we know that means sometimes things go wrong and need reworking or sorting out. That's absolutely fine. That's how we all learn. People will be supported to do that, but we've recruited people that want to work in that way. Whereas I think possibly in the organisation in the past we had some people like that, but we had some people who were much more comfortable being told exactly what to do. And the pace we needed to work at during the pandemic and with the very big ambitions we have for Brooklands Museum in the future - the pace we're going to need to work at in the future - is much better supported by this different attitude in terms of management and leadership, and the kinds of people that we have in the organisation now.
Does the pandemic still affect your organisation
today in certain ways? And if so, how?
I think everyone will still be feeling the effects of the pandemic. I mean, the very practical thing for us, right at the moment, is around staffing and around finances. So, we have a very big backlog of maintenance and conservation work that we just didn't do for two years, in order to try and make the books balance, because our income is normally entirely self-earned and when we were closed for many months of the year, we were running on half the income that we normally would. So we have a backlog of maintenance work that needs doing, which has a lot of implications both for our finances but also for our staff resource, because all of that work needs planning and programming in and tendering and everything else. The team are very stretched by all of that, and it will take a long time for that to recover. I think that's been really exacerbated through the first quarter of this year, when we had more staff off with Covid than we did at any other point in the pandemic. And whilst fortunately none of our staff were seriously ill or long term affected, a lot of people did lose two to three weeks work, and we had times when we had 20% of our staff off at once. So covering that with the remaining staff means that the normal planning we would have done going into our busy season hasn't happened, or hasn't happened in the kind of depth that it normally would. Which, coupled with having had to recruit a lot of new staff, has meant that there's not the institutional memory as widely spread through.
So things are a little more seat of the pants sometimes in terms of getting to where we need to be each day, but I think hopefully that doesn't show too much to our visitors. The plus side of it is that, because we haven't had the time to say, 'Well, this is how we always do everything,' there's been lots of space for people to come up with better ways of doing things, new ideas, and trying some new stuff, and that's been a really positive impact from the pandemic.
How does this year feel? Optimistic or a new set of challenges?
It really is optimistic, although it is still challenging, and I think we have to remember that lots of people are still dealing with a lot of change that's happened in their personal life or challenges coming out of their personal life. I think maybe two or three months ago that was really true, but I think as we're getting into the summer season, the positive sides of this are really coming through. We just had one of our best summer half terms, in terms of visitor numbers, for years and years and years, including pre-pandemic levels and when you run a business that's all about getting people to come and see your stuff, lots of people coming and seeing your stuff improves everybody's morale, which has been great, and we've got some really good new content for this year that people are excited about. We're starting some capital works in the clubhouse, which is the main building on the site, which will bring that up to standards it hasn't been at for about 20 years. That's really good.
So there are lots of positive things happening. I think it's just really important that we keep an eye on everybody and keep continuing to support them, keep remembering that for some people this isn't entirely easy still, and obviously staying flexible - because it does look like the pandemic is receding, hopefully into a permanently distant memory, but we don't know what the rest of the year will bring us.
"I think it's just really important that we keep an eye on
everybody and keep continuing to support them"
The cost of living crisis will potentially have an impact on the visitor numbers, although sometimes we found in a recession that we're an affordable treat and actually it's been okay. We've actually done quite well in some past recessions, but for our own staff the cost of living crisis is a real issue. Museums generally are not big payers and there are a lot of people here who are personally very impacted.
And as I said, we have financial challenges for the organisation coming out of the pandemic, so making the books balance by the end of the year is something that we are concerned about. The best response to that is to get as many people through the gates as possible. So that's what we're really trying to focus on at the moment: that we've got great content for people this summer - making sure we've communicated that really clearly and get people in.
Other posts that might interest you are: