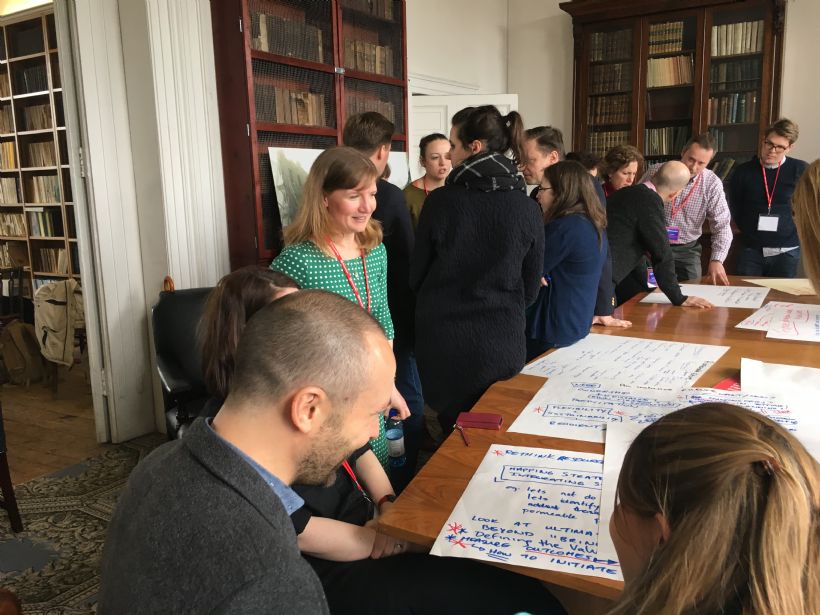 Crossing the bridge and back again - what going client-side taught Laura Crossley
A Different View were recently thrilled to announce the appointment of Laura Crossley. Before joining the team, Laura made the transition from consultant to holding senior leadership positions client-side, before switching back to the consulting world in joining A Different View.
Experiencing projects, organisations, and consultancy work from both sides of the coin has taught Laura a lot, and she's been kind enough to provide some of the most influential learnings she will take into her new role.
Laura's story
I have been a consultant for most my working life. I love supporting organisations to think through knotty problems, come up with innovative solutions, and create meaningful experiences for their visitors. But after taking a couple of short in-house roles at the National Trust and Oxford University Museums, I decided to take the plunge and go back full-time into a paid role. I wanted the opportunity to transfer the skills I'd gained as a consultant to make a difference on the ground at a museum. The museum itself was a major draw too. As a huge football fan born in Manchester, the chance to work at the National Football Museum in the city I'd grown up in was too good an opportunity to miss. I began working as part of the Senior Leadership Team, as Head of Content (collections, exhibitions, learning and programming), in November 2019. You'll see from the date that the next two years were very different to how I imagined they'd be.
Having navigated through the first uncertain six months of the pandemic, thanks to the hard work of the NFM team, it was important to re-evaluate and reflect. Like many organisations, we revisited the purpose and mission of the museum, reflecting on how to move forwards and remain relevant to audiences during a time of great change and uncertainty across the world and into the future. We commissioned A Different View to conduct a major piece of visitor research to help us understand who our audiences were, what audiences needed from us, and what we should offer visitors to give them an engaging, meaningful and memorable experience.
As a client, I found working with A Different View to be hugely energising and inspiring. I looked forward to our meetings, which became time out from day-to-day pressures and firefighting, and valued the chance to talk things through with external consultants who took the time to listen attentively and encourage us to come up with solutions that met the varying needs of our audiences.
I'm excited to join the A Different View team so I can support other organisations on their journey of change. I wanted to take some time to reflect on what I learnt in an in-house role that I'll be taking with me back into consultancy.
1. The pandemic has taken its toll on all of us. People are exhausted. Many have suffered personal loss. Organisations have been in survival mode and long-term planning has been almost impossible. In some of the worst cases, teams have been decimated and valued colleagues have lost jobs. Although consultants can't be therapists, we can listen and practice empathy. We can support and guide clients and help them cut through the fog and confusion to focus on what will work for their audiences, organisations and workforce. We can help bring teams together to excite them about the possibilities and work towards the same objectives. And we can be the people at the end of the phone who take clients out of the day-to-day and help them look towards the future.
2. Projects can be knotty and complex. The funding landscape and the uncertainty we continue to live through means some projects happen before clients have had the chance to fully think through what they need. Consultants need to be able to listen deeply to the needs of clients to really get to the core of what's needed. A great consultant will take the time to really listen and understand, then support and enable. That means a meaningful and open initial meeting in which consultants actively listen and ask the right questions, and regular check-ins throughout projects. Openness is needed on both sides. Clients don't need to tell the consultant everything that's happening in their organisation, but it's enormously helpful to raise issues that may be impacting on the project or staff morale. Every organisation encounters issues. Having the confidence to be open about these means consultants can offer the right support and help organisations come up with solutions that work within their reality.
3. Staff who are stretched and stressed may not have the time to dedicate everything to a project. Consultants need to find different ways to engage staff across the organisation who are dealing with lots of time pressures. A well-devised self-led exercise for staff or 10-minute conversation can elicit insightful feedback and ideas. It's about finding the best ways to reach staff that don't put extra pressure on packed diaries.
4. Vision, mission and values should be at the heart of everything an organisation does. Any work a consultant does should align with these core principles. Organisations need to be really clear on why they exist, who they exist for, and what difference they make to people. But when organisations are in a state of change, they may well be revisiting these questions and not be entirely clear on the answers. Consultants must encourage organisations to do work on their vision and values and keep an eye on these, even if they haven't directly been commissioned to do this work. Projects commissioned by organisations that don't have a clear direction of travel are always held back and can become troubled and irrelevant. Where organisations lack this clear direction, consultants must support organisations to clarify their vision, mission and values and ensure decisions and solutions align with what an organisation wants to be, who it wants to serve, and why it exists. They need to support staff to take time out of the day to day to focus on the big picture.
5. Strategic documents have very little value unless they lead to action. Whole organisational buy-in is the key to making things happen. Consultants must work hard to co-create strategies with staff and trustees, empowering them to take an active role in shaping thinking, so the final product is something that works for the organisation and that they're dedicated to. Trustees and senior leadership teams all have their part to play, too. Advocate to staff, excite them about what's happening, enable them to be involved. Allow your staff to feed back ideas and thoughts and find ways to enable consultants to talk to as many people as possible. Have a plan for when the strategy is complete and the consultants are no longer working for you: how will you keep the strategy top of mind for staff, how will you keep communicating with your team, how will you ensure actions happen?
Great consultants enable change. As a consultant, it's an honour to be given the trust and confidence to support organisations to reflect, plan, look at the bigger picture, and find innovative solutions that are right for them. We work in an exciting sector, full of incredible people who are doing interesting, innovative things. Being able to work with many of these people to support their organisations is such a privilege. As I go back into consultancy, I can't wait to be curious, enquire, listen, learn, and support organisations to make great things happen.
Other posts that might interest you are: