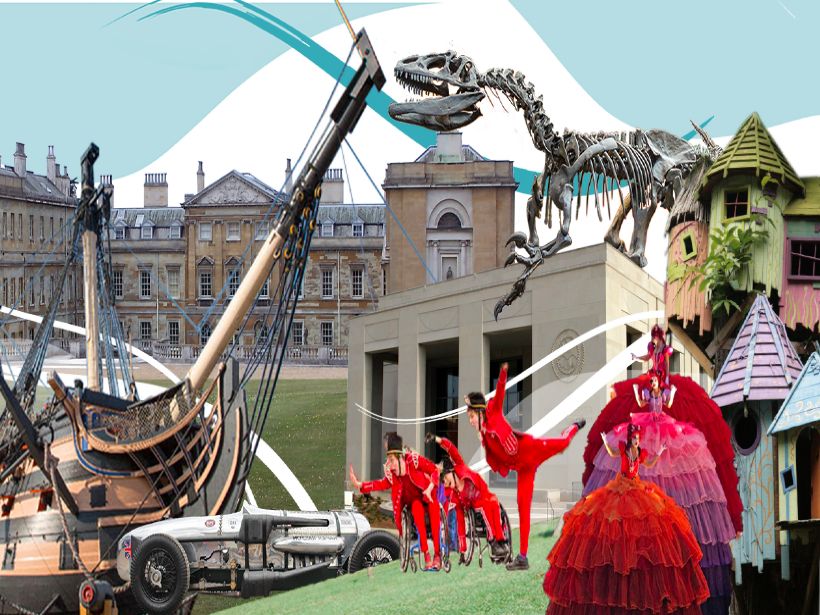 What's the cultural sector thinking about next?
3 things we've noticed
Over the last year or so we've worked with 41 museums, 16 parks and reserves and 3 large-scale mixed-use cultural and arts venues. It's given us a unique perspective and privileged view into how organisations are feeling, how they've reacted to the pandemic and what they plan to do next.
At the same time our insights team have been producing an ongoing programme of consumer sentiment research tracking how we're all feeling, how behaviour is changing and what that might mean for the cultural sector.
We cannot deny it: there is no getting back to normal - there is only the next new normal and that hasn't quite figured itself out yet. But as we all try to find our way there are countless opportunities presenting themselves and many reasons for optimism.
In this piece, we start to examine the cultural sector and consumer sentiment and offer three thoughts for a quick read:
1. Reimagination and disruption
The pandemic has caused pain and discomfort for every industry, every individual and every community. For the cultural sector survival remains priority number one, but to thrive and remain relevant there is a growing understanding that change may well be needed. To that end we have noticed many museums, heritage and arts organisations re-examining their purpose and vision – asking themselves how they can be more relevant to their fast-changing community while at the same time thriving as organisations.
This observation sits alongside considerable change in our communities. Up and down the average street people have been forced into retirement, made redundant, changed jobs, changed what they do for a living, work from home now. For many they became teachers and carers in the pandemic and for some that remains the case. And beside the practical changes are the dark gremlins – a rise in domestic abuse, mental health issues, overall wellbeing of communities knocked sideways.
Business is changing too and, dare I say it, disruption is afoot in many areas. The high street is heavily boarded up or 'for let' in towns and cities. This has left anchor stores empty and a mass of voices asking 'what do we do next?' The door is wide open for cultural attractions to come up with imaginative experiences to fill some of these spaces – particularly appealing if it's a pop-up or changing concept. The likes of Meow Wolf – the arts and experiential arts company – will no doubt surprise us as will the bonkers but hugely creative Bompass and Parr providing events and attractions with curated multi-sensory food experiences. Both look like interesting partners for a disruptive project but so too are the immensely talented artists and practitioners up and down the country looking for a chance to collaborate and create. Never has there been a better moment to look to the arts for bold ideas.
2. Exponential growth in online experiences
Pre-pandemic the cultural sector was already well on its way in experimenting with digital experiences of varying types. This investment in knowledge and understanding undoubtedly put the sector well ahead of its commercial cousins as the pandemic hit. Even the smallest of volunteer run museums was able to pivot quite quickly and offer online lectures and talks. For some, this resulted in the most astonishing audience development as they noticed new audiences, some from far afield who would never have been able to engage with them in person. Over the last year our work with AIM (Association of Independent Museums) has revealed countless examples of small entrepreneurial museums making a go of this new opportunity and as we head into the autumn, we're aware of many continuing to build their digital offer alongside their physical experiences.
Yayoi Kusama's Infinity Mirrored Rooms Live Streaming. Image sourced from Google Images
The Infinity Mirrored Rooms at 'The Broad' in Los Angeles gave us a hint of how a physical experience could find significant value online. Their live streaming event during 2020 was part of their 'Broad From Home' series. Accepting that the experience would need to be different, they developed a streaming event coupled with curated aural selections by musicians from LA and further afield. The result seems to have been a much more contemplative experience than the 45 second experience regular visitors enjoyed at the museum. And while everyone would accept this was a swift reaction to lockdowns, the learning in terms of future digital based experiences will be invaluable.
Our continuing sentiment research supports the ongoing appetite audiences have for more online content with 70% having watched or participated in a list of online activities, excluding films. The most popular activities being health or exercise, live music performances and online gaming. Interestingly 34% of people had paid to experience an online activity in 2020 and early 2021. Let's have a look at what they paid:
3.Diversifying Income, changing the business model
Over the last year we've delivered six learning programmes under the general heading of diversifying income. The level of interest in these programmes tells us that it's on people's minds and for a variety of reasons; the uncertainty of future lockdowns has been one and the uncertainty about future funding streams another. And for some, the sad truth is they weren't doing so well pre-pandemic and now they have to change their business model to survive. But we've also noticed a small but interesting group of cultural organisations choosing to explore possibilities to enhance their income streams and partnerships because their entrepreneurial spirit tells them there's an opportunity as audience behaviour changes and new partnerships open up.
But a word of caution. Be mindful that changing your business model quite possibly changes your organisational culture and ethos and this might not be entirely understood nor desired. I remember a similar situation post 2008 and into the 'lost decade' we were all so happy to put behind us. As the recession really started to bite, cultural organisations thought they needed to be more commercially minded and quite often made quite radical changes with their boards and senior leadership teams to transform thinking fast. The effect was certainly disruptive and for some a helpful move in the long term after a bit of a bumpy start. But I also saw far too much radical change across a sector that was ill prepared. The cultural sector is fundamentally different from its commercial cousins – something not easily understood unless you've worked in both. And it can be damaging as much as it is invigorating to mix it up. So, what's the message? Think carefully about the possible effects of change to your business model on your ethos and culture. Be aware that everyone has had to deal with a great deal of personal change over the last 18 months and so they might not be as receptive as you might want them to be in the workplace. Gentle but purposeful collaborative change might be a better way.
This article was written by Rosalind Johnson, co-founder of A Different View. Feel free to reach out to her at [email protected].
Other posts that might interest you are: